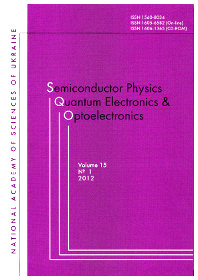 S

emiconductor Physics,


Q

uantum Electronics &


O

ptoelectronics

(SPQEO)

ISSN 1605-6582 (On-line) | ISSN 1560-8034 (Print) | ISSN 1606-1365 (CD)
DOI: https://doi.org/10.15407/spqeo



---
Aims and Scope | Editorial Board | For Authors | For Subscribers | Copyright | License | Archiving Policy | Subscribed Libraries


AIMS AND SCOPE

Semiconductor Physics, Quantum Electronics and Optoelectronics (SPQEO) is an open access peer-reviewed international scientific journal publishing fundamental and applied papers and short notes in the area of:

• semiconductor physics;
• hetero- and low-dimensional structures;
• physics of microelectronic devices;
• linear and nonlinear solid-state optics;
• optoelectronics and optoelectronic devices;
• quantum electronics;
• sensors.

SPQEO was founded in 1998. All articles are accepted and published in English. Issued quarterly, one volume per year. Information valuable for post-graduates and doctorants (in Ukraine). SPQEO journal are adopted by the Highest Attestation Commission of Ukraine as an edition where results of candidate and doctor theses may be published and taken into account when conferring respective scientific degrees.

Publishing statistics and Terms of Publications

Semiconductor Physics, Quantum Electronics and Optoelectronics publishes from 60 to 90 papers annually, from 15 to 25 papers per issue quarterly. In 2016 there were published 67 total papers in 4 quarterly issues.
Publisher use online visitor statistics (Google Analytics) and doi CrossReference Statistics that can be presented quarterly on official demand.
Gereral term between submission and publication is from 3 to 6 months. But, in case of submission long review paper or extra major revisions request it may takes longer time.

Due to kindly assistance of EBSCOhost all the materials published in the journal Semiconductor Physics, Quantum Electronics and Optoelectronics starting from the Volume 6, #4, 2003 are presented in 32 research databases. The journal is indexed and abstracted in the WorldCat, Vernadsky National Library, CrossRef (all articles have DOI, journal participates in Cited-by-Linking).



This work is licensed under a Creative Commons Attribution-NoDerivatives 4.0 International License.
| Home | About ISP | About SPIE/Ukraine | Contacts |