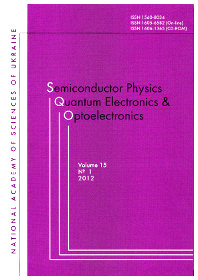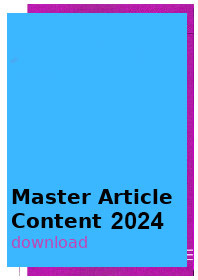 Semiconductor Physics, Quantum Electronics and Optoelectronics
(SPQEO) is an open access double blind peer-reviewed international scientific journal publishing fundamental and applied papers and short notes in the area of: • semiconductor physics; • hetero- and low-dimensional structures; • physics of nanoelectronic devices; • linear and nonlinear solid-state optics; • optoelectronics and optoelectronic devices; • quantum electronics; • sensors.
SPQEO
was founded in 1998. All articles are accepted and published in English. Issued quarterly, one volume and 4 issues per year.

SPQEO journal is included to the highest category "A" of professionals scientific editions approved by the Ministry of Education and Science of Ukraine for phys & math sciences and technical sciences (the decision from 15 march 2019). Papers published can be considered by the Attestation Board of Ministry of Education and Science of Ukraine for appropriate specialities of candidate and doctorate theses when conferring respective scientific degrees.
RESEARCH DATABASES

Web of Science Coverage (Thomson Reuters): Semiconductor Physics Quantum Electronics & Optoelectronics has been selected for coverage in Clarivate Analytics product(s) and services. Starting with 2019 volume 21 No 1, these publications will be indexed and abstracted in: Emerging Sources Citation Index (See Official Acceptance Letter).

SCOPUS Coverage (Elsevier): The journal "Semiconductor Physics, Quantum Electronics & Optoelectronics" has been accepted for coverage in selected Elsevier product(s) starting with 2019 volume 22 No 1.

Due to kindly assistance of EBSCOhost all the materials published in the journal Semiconductor Physics, Quantum Electronics and Optoelectronics starting from the Volume 6, #4, 2003 are presented in 32 research databases.
The journal is indexed and abstracted in Google Schoolar, Ulrich's Periodicals Directory Ulrichsweb, WorldCat, Vernadsky National Library, CrossRef (all articles have DOI, journal participates in Cited-by-Linking). The journal is indexed in the Directory of Open Access Journals DOAJ and Index Copernicus International Journals Master List with 2016 ICV Value=83.05, 2017 ICV Value=100.00
CERTIFICATE of State Registration

PEER REVIEW
The articles are reviewed by two independent experts who are appointed by the editorial board
(double blind reviewing process)
, more information at "
PUBLICATION ETHICS AND PUBLICATION MALPRACTICE STATEMENT
". After that the corresponding author receives a copy of an article manuscript with reviewers remarks. Reprint version revised by the author and agreed with reviewers is considered the final one and must be signed by the reviewers and authors. After that the text, figures and tables replacements or modifications are prohibited. When ublishing an article the editorial board follows the last version delivery date.
Authors are welcome to suggest suitable independent reviewers when they submit their manuscripts, but these suggestions may not be followed by the journal. Authors may also request the journal to exclude not more than two individuals or laboratories. The journal sympathetically considers such exclusion requests and usually honors them, but the editor's decision on the choice of peer-reviewers is final. Ourjournal editors treat the submitted manuscript and all communication with authors and referees as confidential. Authors must also treat communication with the journal as confidential: correspondence with the journal, reviewers' reports and other confidential material must not be posted on any website or otherwise publicized without prior permission from the editors, whether or not the submission is eventually published.
PLAGIARISM
The Editorial Office of the journal is located at V. Lashkaryov Institute of Semiconductor Physics of National Academy of Sciences of Ukraine. Address: 41 Nauky prospekt, office 219, Kyiv 03680, Ukraine. Tel: +38 044 525 6205 http://isp.kiev.ua/

The Publisher is V. Lashkaryov Institute of Semiconductor Physics of National Academy of Sciences of Ukraine

This work is licensed under a Creative Commons Attribution-NoDerivatives 4.0 International License.